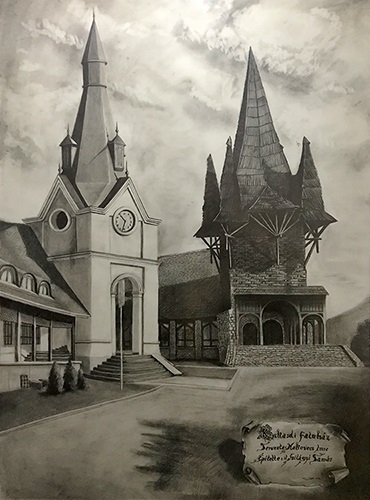 Introduction
Everything in one hand, from idea or design to implementation and maintenance.

Our family business started its activities in the field of construction in 2014, under the leadership of Tamás Szilágyi, with a focus on building services engineering, and with continuous active participation in architectural works, which we are still carrying out today, with more than 40 years of experience, monitoring the constant technical innovations and developments. The building industry is a cross-generational vocation for our family. We are proud to mention the Kakasdi Village House, designed by Imre Makovecz, which was built under the leadership of Mr. Tamás Szilágyi. He worked as a master mason until his retirement.

In 2023 our company became a larger business one, as a Kft. At the same time, Márk Szilágyi joined the company, who, with an innovative, engineering and precise approach, set himself the goal of carrying out construction works in the life of the company. Alongside his studies in engineering, he was already actively involved in civil engineering activities and building design processes. He has now joined the company with more than 7 years of engineering experience, expanding his repertoire with full engineering services in both design and construction.
Design


Full design process for family houses and apartments, preparation of documentation required for the building permit procedure
Comprehensive planning process for the renovation and extension of family houses and flats, preparation of the documentation required for the launching of the building permit procedure
Comprehensive planning process for an industrial facility, preparation of the documentation required for the launching of the building permit procedure
Preparation of construction plans for family houses, flats and industrial facilities
Design of steel structures and building's steel load bearing structure, preparation of shop drawings and construction drawings
Site survey of existing building, digitisation of survey, prepare of design documentation
Construction


Full general construction of family houses and apartments in accordance with current legislation and regulations
Full general construction of industrial premises in accordance with current legislation and regulations
Renewable energy survey, installation
Installation of electric heating
Domestic heating up to the price of a chimney
Heating, cooling, ventilation, water/gas, combined heat and power, pellets, heat pumps, solar collectors for family houses, apartments, industrial plants
Engineering activities


Engineering consultancy
Responsible technical management of construction and installation works for general construction works
Technical supervision of building construction
Project management
Renovation, building extension


Family house renovation with full project management
Renovation of a private dwelling with full project management
Replacement and renovation of kitchen technology
Boiler replacement with full project management
Maintenance, troubleshooting


Maintenance of ventilation systems, FanCoils, air conditioners; assessment, manufacture and replacement of filters
Maintenance and repair of heating and cooling systems
Waterproofing, insulation repair, troubleshooting
Full advice for design, construction, building renovation, expansion, maintenance and operation.
Call, write, contact me with confidence!
Tamás Szilágyi
owner, managing director
Márk Szilágyi
engineer, M.Sc.